PRIVATE JET

TO
SAN FRANCISCO
WITH AVIATION CHARTERS
Calling all "Full House" fans! Book your private flight to San Francisco to take a visit to the iconic 90s sitcom's house! San Francisco is a great destination for families and partners to explore this world-famous cable car city!
Golden Gate Bridge
Take the kids to the infamous Golden Gate Bridge and bask in its orange arches as you take pictures to make this memory last a lifetime!
California Academy of Sciences
After you visit the Golden Gate Bridge, you can relax and have some learning fun at the California Academy of Sciences. Take the kids on a journey of all aspects of life by visiting its aquarium, planetarium, and a rainforest!
Cable Cars
Arguably one of the most iconic sights of San Francisco is its infamous cable cars. Sight see with the family as you feel like you're in a movie. Don't forget to take tons of pictures!
The Walt Disney Family Museum
If you've been to Disneyland and Walt Disney World, you have to check out The Walt Disney Family Museum! Learn about the history and childhood of the iconic founder.
Restaurants
No vacation is fulfilled without some good food! We've found some of the best restaurants in town for you to choose from.
Jiangnan Cuisine
Enjoy the sweet flavors of the Wuxi! This city just north of Shanghai features regional cuisine of stewed duck or feast on the red-braised pork belly.
Pearl 6101
This diner is the perfect cozy spot to spend a good meal with your partner or friends!
La Ciccia
Sometimes some good Italian food is just calling your name. Look no further than La Ciccia. Enjoy some spicy octopus stew or some sea urchin pasta.
Angel Island State Park
For all the adventurers out there, the Angel Island State Park!
Lombard Street
This zig-zag street features Victorian mansions, beautiful flowers and shrubbery! This is a perfect spot to take pictures that will make your Instagram feed the talk of the town!
Nightlife
If you aren't tired from a day of sightseeing and exploring, San Francisco has a nightlife fit for any partygoer! Here are some of the best nightclubs and bars that San Francisco has to offer.
The Interval at Long Now
This cocktail bar is not only a bar, but also a museum and cafe! Enjoy a picturesque view of the thousands of the books that line the floor and ceiling.
Li Po Cocktail Lounge
Check out one of the oldest bars in Chinatown! Open since 1937, this is the perfect place to go to be a part of history, as well as relax and enjoy some delicious cocktails.
Tonga Room & Hurricane Bar
You can't leave San Francisco without making a stop at the Tonga Room & Hurricane Bar. You'll be immersed in a tropical decor filled with live entertainment, rain storms and mai tai!
Public Works
This underground club is perfect for the disco-lovers all the way to the punk lovers
Don't wait and book your flight to San Francisco today! We'll take care of the hotel and restaurant reservations so you can focus on enjoying your trip!
FLY PRIVATE TO SAN FRANCISCO
Experience the power of "yes!" and enjoy our complimentary concierge service. Call us to book your flight and let us know where you'd like to stay, eat and visit and we'll make all the reservations for you.
If you're looking for a meal in-flight, enjoy your favorite dish! Simply let us know what you would like to eat and we will have it ready for you to eat during the flight.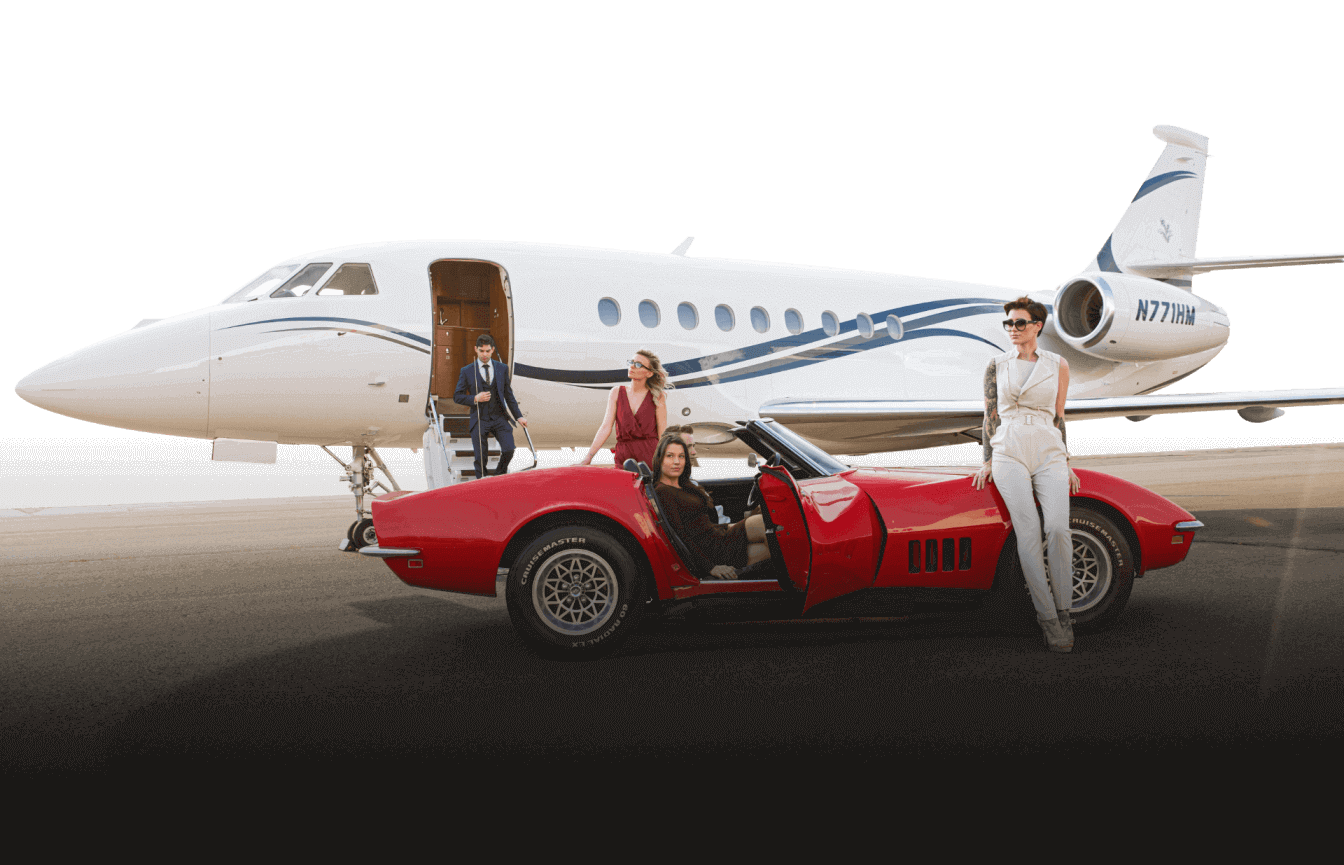 GET THERE


SAFELY!

When you fly private to San Francisco with Aviation Charters, you get the best care and safety. We ensure all of our pilots are FAA-rated Airline Transport Pilots and train every six months to ensure they are up-to-date with the ever-changing industry. Put your trust in us to get you to your perfect vacation in San Francisco, without having to sacrifice safety or style.
CHOOSE


YOUR PLANE!

If you have an aircraft you'd like to fly in, simply let us know and we will make sure that plane is available for your flight. With plenty of aircraft options and selection, you can personalize your flight plan!
BOOK YOUR PRIVATE JET

TO
SAN FRANCISCO
Book your private jet flight to San Francisco! Make all your friends envious as you toast in the sky, flying private. Call us at (877) 988 6868 and experience the power of "yes!"