PRIVATE JET

TO
LOS ANGELES
WITH AVIATION CHARTERS
Bet you, the first thing that comes to your mind at the mention of the words LOS ANGELES is Hollywood. While that's to be expected, as L.A. is home to the infamous Hollywood sign and countless celebrity mansions, the City of Angels offers so much more than the chance encounters with movie stars.
Los Angeles is a dream destination for corporate people and tourists alike. A thriving and vibrant city teeming with unique experiences, culture, commercial opportunities, and world-class amenities for both business and leisure. Whatever the reason for your visit may be, one thing's for sure: the best way to get to L.A.? By private plane, of course!
Flying to Los Angeles? Book a plane with Aviation Charters today!
The City of Angels has it all, hands down.
A cool, modern, bustling metropolis of skyscrapers set against a backdrop of rolling hills, hiking trails, and glorious white sand beaches. If there's only one city on the West Coast that you can explore, this has to be IT!
If you love the sun, the sand, and the surf, you'll definitely fall in love with Los Angeles. L.A's beach district is the perfect spot for chilling out in the sun, catching a wave, or maybe some late afternoon shopping. And the best thing about the beaches here is that they have character! Truly an interesting spot to people-watch with a smoothie in hand!
But what if surfing isn't your thing?
Well, no worries! There's still so much that Lost Angeles has to offer!
An unforgettable day of fun awaits families and little children at Disneyland, while adrenaline lovers, joy seekers, and film buffs get to have the time of their lives at any of the more-than-a-dozen theme parks around the city.
For other forms of entertainment, you may head to Sunset Strip for some music or the traditional theaters all over downtown L.A. And while you're at it, why not check-out the infamous Walk of Fame and then visit a movie set for an authentic taste of Hollywood?
Beverly Hills (home of the 90210 zip code)
Of course, no trip to L.A. – be it for business or recreation – would be complete without a visit to Beverly Hills (home of the 90210 zip code) and the famed Rodeo Drive for some high-end window shopping and celeb spotting.
But what really sets the City of Angels apart from other popular travel destinations is the diversity.
Do you want to grab some Hawaiian breakfast? Are you craving for Japanese Noodles or Korean barbeque? That's the least of your worries in L.A! The food in this city is just as vast and vibrant as its diverse communities.
In L.A., you can find neighborhoods like Chinatown, Little Tokyo, Little Ethiopia, and Koreatown that offer visitors and locals the opportunity to discover new cuisines and cultures. It's like a trip around the world, but without having to leave the city!
Indeed, L.A. is an exhilarating mix of commerce, showbusiness, culture, art, and endless parties, rolled together to create one of the world's most unique cityscapes. You have to experience it for yourself.
Are you planning a visit to L.A.?
Skip the long lines and crowded public terminals; charter a private jet with Aviation Charters.
Whether you're flying to the city for a business conference or a family vacation,
the
"Power of Yes!"

will take you to Los Angeles stress and hassle-free!
Book the best private jet service
Los Angeles has to offer
If you're thinking about flying to Los Angeles—whether it's your first time or not—you might want to reconsider taking a commercial flight and dealing with the many hassles. After all, you have a better option: a private jet charter service. And if you book the best private jet service Los Angeles has to offer through Aviation Charters, your LA trip is bound to be more comfortable and efficient than you can imagine.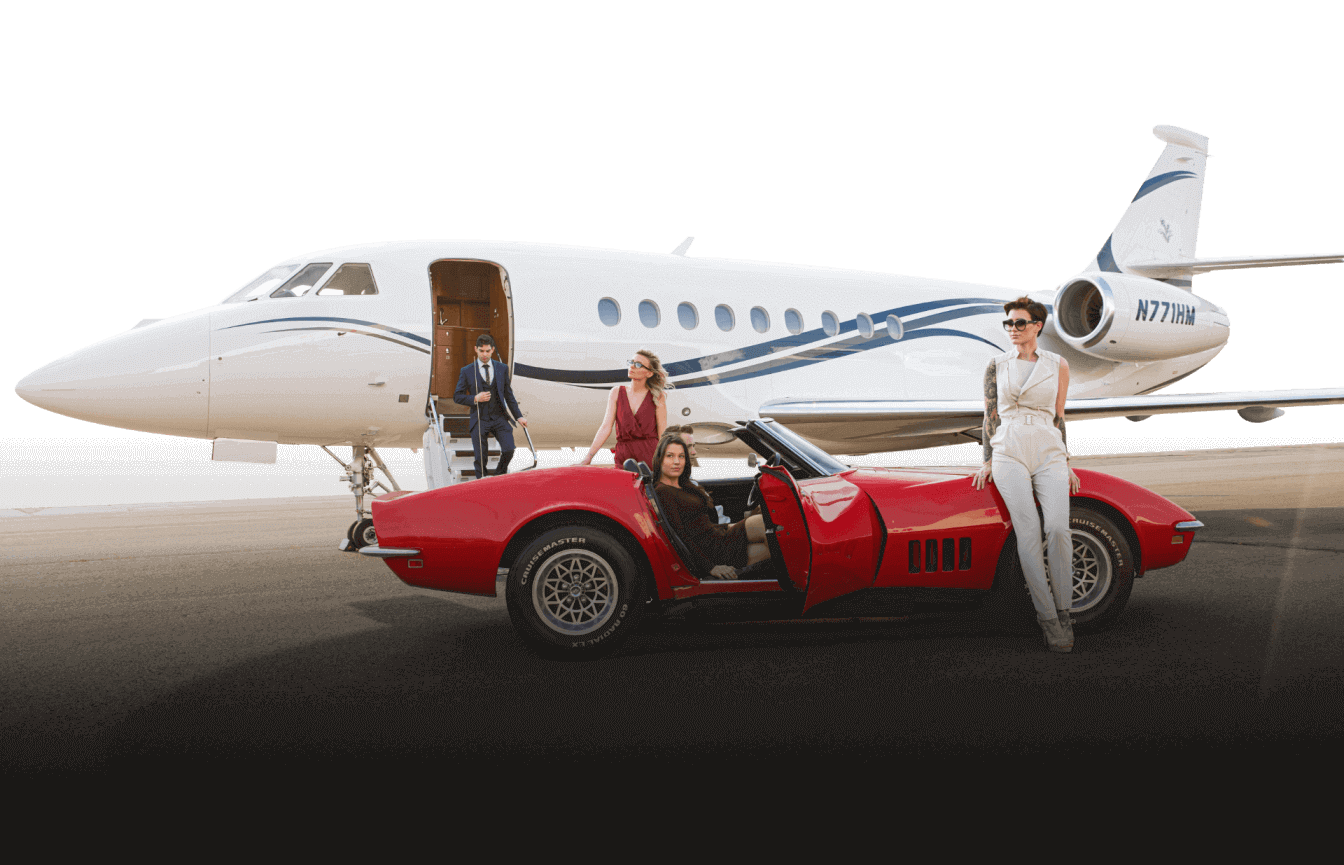 No security lines


for private charter flights

Just create an account, pay only for the trips you take, and get reimbursed for any unused travel funds. Whether you're an occasional leisure traveler or a frequent business flyer, Aviation Charters is for you. So what are you waiting for? Call us at 877-988-6868 or submit the form below and a concierge will be in touch shortly. Now prepare for take off!

When you book a Los Angeles private jet charter with us, you can say goodbye to the stress and frustration of having to remove jewelry, clothes, shoes, and belts in front of everybody. With private jet charter services, the Captain of the aircraft you're boarding is (pretty much) your security check.
Exceptional flight crews


on our private jet flights

The pilots that fly our private jet charter flights are some of the best in the field. With their high-level training, you can rest assured that your flight will be as smooth and safe as they can make it.

Making your trip with the finest private jet charter Los Angeles offers, is inclusive with the level of customer service you will get from our in-flight service. Whatever you may need, just say the word, and our in-flight staff will do everything in their power to provide it.
First-rate


concierge service

Once you book a private charter flight with Aviation Charters, we will immediately begin making your trip an unforgettable one. For starters, our concierge service will work right away on your hotel, restaurant, or any reservation in Los Angeles that you would like to make. And when you land, you will be met by a car service arranged by our concierge service upon your request. At Aviation Charters, all you will really have to do is pack your bags and board your private jet charter flight.
Avail of our


private jet services now

Aviation Charters is the company to call when you want topnotch private air travel. Contact us now so we can immediately get the ball rolling on what could only be the safest and most comfortable and convenient flight to and from Los Angeles that you will ever take.
BOOK YOUR PRIVATE JET

TO
LOS ANGELES
So why wait? Check out our list of options today and book your private charter flight to Los Angeles through Aviation Charters .
If you don't see your ideal flight listed, give us a call at (877) 988 6868 so we can provide you with assistance in securing that flight for you.